FLEXIBLE LOT TYPE
Flexible lot is an advanced way of a fixed lot with elements of risk management similar to the % of Deposit lot type. Position size is calculated for every new trade. The calculation is based on the account equity value. The higher equity you have the more lots you open and vice versa. Once you decided how many lots you will be opening for your current equity size, you define two parameters: lot size and flexible deposit level. Deposit level will be used to calculate the amount of lots you shall open. In other words autotrader will be opening as many lots as required based on a simple rule: open Y lots for every X deposit level.
The calculation is very simple: take the account equity (account balance + currently open trades result) divide it by the flexible deposit level and multiply by lot size. (EQUITY / FLEX DEPOSIT ) * LOT SIZE = OPEN AMOUNT. For illustration purposes, we will use a deposit of $5,000 with $2,500 flexible deposit level and 0.1 lot for every $2,500. Settings are: Flexible deposit level = $2,500, lot size = 0.1. Every time a new trade is opened, we will take an account value divide it by flexible lot size and then multiply by lot size. In our example, it will be $5,000 / $2,500 =>2, then multiply by 0.1 =>0.2. So we have to open 0.2 lot for $5,000 equity. Let us assume, an account has grown to $6,250 value. The calculation is the same: ($6,250 / $2,500 ) * 0.1 = 2.5 * 0.1 => 0.25 lots. If account to fall in its value, e.g. now it is $3,750 then we will have 1.5 * 0.1 = 0.15 lots. This calculation is made for every new trade an hence the amounts of lot will be changing smoothly.
The following image demonstrates the process of lot calculation for every new trade. Flexible lot and flexible lot sizes are constant values. As account equity changes, the lot size for the next trade is affected. The higher is the account value, the more lots we open and vice versa.
Further, you will find an example of Flexible Lot trading used for the Signalator Plus from 1st of January 2016 with $2,500 flexible deposit and 0.1 flexible lot. You may check these results on the Signalator Investment Calculator.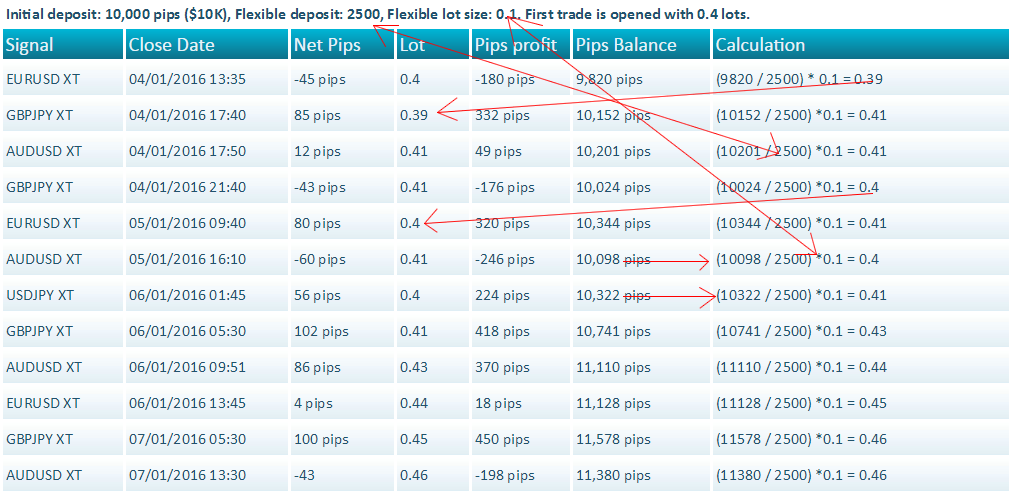 Calculation: ACCOUNT EQUITY / FLEXIBLE DEPOSIT LEVEL * LOT SIZE => (e.g. ($5,000 / $2,500) * 0.1 = 0.2 lots).
Settings :Choose "Flexible" within the lot type; Put Flexible deposit level into the Flexible Deposit field and lot size to Lot Size field (e.g. Flex Deposit = 2500, Flex lot = 0.1).
Strong sides: profits increase with account growth; losses reduces as account equity drops.
Weak sides: risk level for each trade is different and depends on level of a SL.eralHE MOST EFFICIENT LOT TYPE FOR SIGNALATOR SIGNALS