The Detailed Alert Page
If you click any trading signal to view its detailed alerts page you will see the page with the detailed most recent alert (Open, Update or Close) and the history of alerts for the most recent trade. Please note: the archive of the all alerts is available at Signals History menu within the personal page.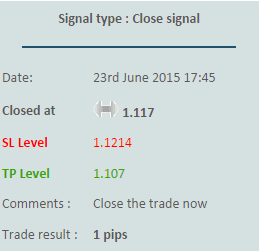 The most recent signal shows the type of a signal (The Open signal for new position, The Update signal for updating SL / TP levels and The Close signal for closing of a trade). The signal's date, the price (Open or Close), the TP/SL levels and the comments are displayed. If the position is closed, the trading result is shown.
In the bottom of a page you will find the history of the alerts for the most recent trade (alert for a trade open, any updates of a trade and the closing signal). You may check when the trade was opened and which alerts were sent.
Telegram Personal Messages and Channel

All signals may be sent to your Telegram messenger either as personal messages or as a subscriber of a channel. Alerts are sent instantly to your Telegram account. This option is free with any subscription.
The SMS and Email Trading Signals Alerts
If you are subscribed to either SMS or Email alerts, the Signalator website will automatically send you a copy of an alert as soon as it is released. You will receive a detailed information similar to a web page alert. A currency pair, a date, an open / close price, a stop loss and a take profit levels and traders comments are included with the message. As a visual help, all Sell alerts are provided with an orange text and with an orange background, all Buy alerts are in a blue text and with a blue background and all Closing signals are both grey for text and background.
The Signalator alerts are sent with the "Signalator signal update" title and are sent from alerts at signalator mailbox. If you can't find the expected email, please check the spam / junk and the email registered with the website. Please note: Signalator cannot guarantee the delivery of either SMS or Email to your accounts. We can guarantee, we will send alerts from our server in time and to all chosen delivery options.
Questions and Answers
How can I check my trading signals?
To check your signals, you have to be registered (if you are not, click here to register). Enter your login and password at the top of any page and you will be redirected to your personal page where you can check all the subscribed signals.
Which delivery options are available?
The signals can be sent via Telegram messages, Email, SMS, automated trading and the personal page. SMS delivery is available for an additional charge. All other options are free with any paid subscription.
I'm not receiving SMS or Email alerts I'm subscribed to. What do I do?
If you are eligible for receiving either SMS or Email alerts and you still don't receive it, check the spam / junk box of your email box, the registered email for the receipt of Email alerts. If you are not receiving SMS, check the phone number (it must include the country code). Please note: to receive SMS your SMS credits should be above zero. If you have used all SMS credits, please purchase more SMS credits to re-activate SMS delivery option. Contact your personal manager to get everything working.
Are there any limitations for Email / SMS alerts?
There are no any limitations for Email alerts to be sent. We send SMS to most countries and mobile operators. If you believe you may face any difficulties receiving SMS, contact your manager for a demo SMS.