The Guaranteed Pips Subscription
The guaranteed pips subscription is not a type of a signal but is a way you subscribe to Signalator services. Commonly a subscription is valid for a certain period. During this period you use services. Once a period expires, you have to renew your subscription. And there is no difference whether you made profits or made a loss during this period. To overcome this situation, we invented the guaranteed pips subscription many years ago.
With the guaranteed pips subscription you can choose to trade any available trading signal (from 1 pair to all pairs). The idea is very similar to a mobile minutes plan or an internet traffic plan. You subscribe to a certain amount of pips of profit you would like to receive, and you trade with our signals until this target is not reached (you use the number of pips left as a subscription balance). For example: if you were thinking of making +10% to your account, your subscription will remain valid until your trading account shows +10% net profit.
How Does It Work?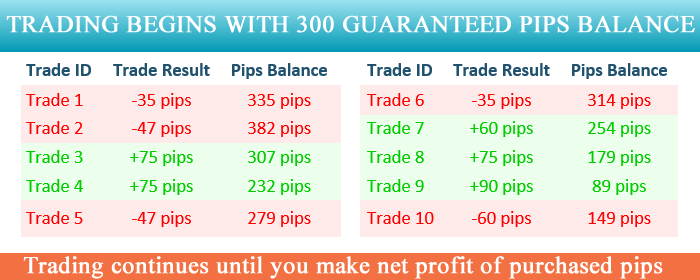 Signalator counts 1 pip as 0.0001 movement for XXX/USD currency pairs and similar pairs, 0.01 movement for XXX/JPY pairs and similar and 0.1 movement for XAU/USD pair.
The open amount does not influence pips balance at all. For the demonstration purposes only, we will consider a subscription with the 300 pips of profit purchased. In the picture to the right, you can see the hypothetical pips balance updates.
Every time we make a profit, the number of pips we have to provide to you decreases, on the other hand, every time we make a loss, the number of pips we have to provide to you increases.
This ensures you will receive the net profit in your trading account. The table above shows the calculation process of the pips left balance. Every trade affects the pips balance. The pips balance is a kind of an expiration period. The more pips you have, the more time you can use our signals. If your pips balance is less than 0, we provided you with all the profits and you have to renew your subscription. This subscription is Pay for Profits subscription type. You pay for the net trading results in your trading account.
Signalator uses an automated calculation based on prices we send within our signals. If for some reasons your trade has a different value, we will update your pips balance to show the net profit result. To find out a pip's worth or to understand how much money you will make with the guaranteed pips, please check the Investment Calculator.
Benefits and Features
For a better illustration, we have prepared a comparison table of the Pay for period (monthly subscription) and the Pay for profits (guaranteed pips) subscription. The guaranteed pips subscription is the far more advantageous type of a subscription. Not to mention it is the most popular subscription among Signalator clients (65% of clients choose it).
Free SMS + Email alerts + Automated trading + VPS
Result based subscription expiration (no good result => no expiration)
Trade any currency pairs available
Profits are calculated based on your trading account
You predict your exact amount of profits
Higher subscription cost

Free SMS + Email alerts + Automated trading + VPS
Renew monthly / quarterly independently from trading results
Trade only currency pairs subscribed to (all pairs subscription available)
Results details are provided for informational purposes
The amount of profit is unknown (can be a profit, an equilibrium or a loss)
The subscription price is lower compared to guaranteed pips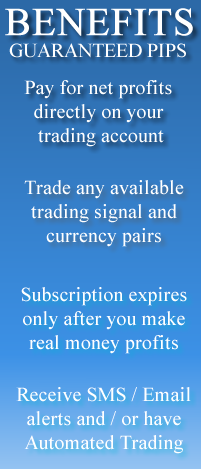 Questions and Answers
Q. How do you guarantee my profits?
A. Signalator does not guarantee your profits in any way. We guarantee you will be using our services until you make net profits on your trading account.
Q. Why the subscription is called the guaranteed subscription?
A. The subscription expiration is based on your trading account performance. It will expire only when you make net real profits in your trading account.
Q. Are SMS, Email alerts and Automated trading already included with a subscription?
A. Any paid subscription includes Email alerts, Automated trading, free VPS (server) and personal manager assistance. SMS alerts are available for an additional charge.
Click here for subscription options.
Q. For how many pips I can subscribe to?
A. We offer subscriptions from 300 pips to 2,500 pips. The more pips you purchase, the less is a price for each pip. Click here to subscribe now.
Q. When do I have to pay fees? Before or after I make profits?
A. All subscription plans offered including the guaranteed pips subscription are prepaid. It means, you pay first and then use Signalator services.
Q. What if I receive only losses?
A. Virtually it is almost impossible. However, if this is the case the pips left amount will be increasing respectively. We have been trading many years and in the end, made profits to our clients even with consecutive months of losses.
Q. Is it possible to trade 1 pair or all pairs?
A. You are free to choose any pair or pairs currently offered. If you prefer any particular pair or you feel it performs better, choose one or two pairs. If you would like to diversify your risks, consider choosing more currency pairs. Check which pairs are currently available.
Q. Do I receive the same amount of money if I trade 1 pair or all pairs?
A. To receive the same amount of money trading with 1 pair or with all pairs, you have to open the same amount of lots in both cases. However, from the risk management perspectives, it is either too risky or too inefficient. The more pairs you trade, the faster you use your guaranteed pips. On the other hand, the less number of pairs you use, the more money you will receive in case you are following money management rules.
Q. How much money do I need to trade with guaranteed pips subscription?
A. To cover Signalator fees and to make some profits it is recommended to have at least $5,000 as your trading deposit. Otherwise, you will cover Signalator fees at best.